Latest Taboo18.com Updates
Tiffany Fox
July 18, 2014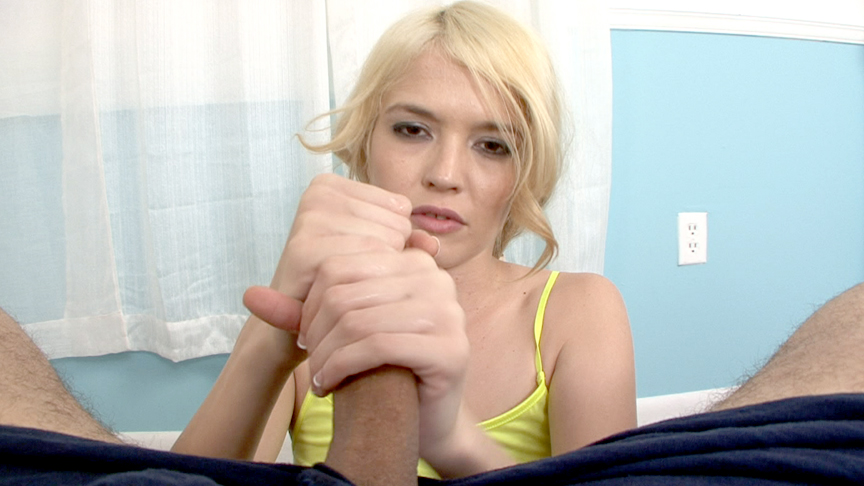 Ever since Tiffany Fox turned 18 years old, she's been very slutty, especially with her stepbrother. She's been feeling really horny too. Whenever she buys a new sexy dress and a pair of tight pantyhose, she has to model them for him. She bought a new dress for a party she's been invited. A very short dress. Shorter when she raises it up for her stepbrother to see she isn't wearing no panties under her stockings. It's the only way she can get a ride from him. She teases him with her pantyhose, rubbing their silky smooth surface, before pulling out his cock, tugging on it until it gets rock hard for her. She takes of her tall high heels, making him take a good nose full of her sexy feet. She lubes up his stiff dick, using both hands to jerk it. Her stepbrother can't believe she's doing this, but he isn't stopping her. It feels too good. Tiffany seems well practiced at giving hand jobs. Very impressive from an 18 year old. The way she makes him blow his load, he can't deny driving her anywhere she wants.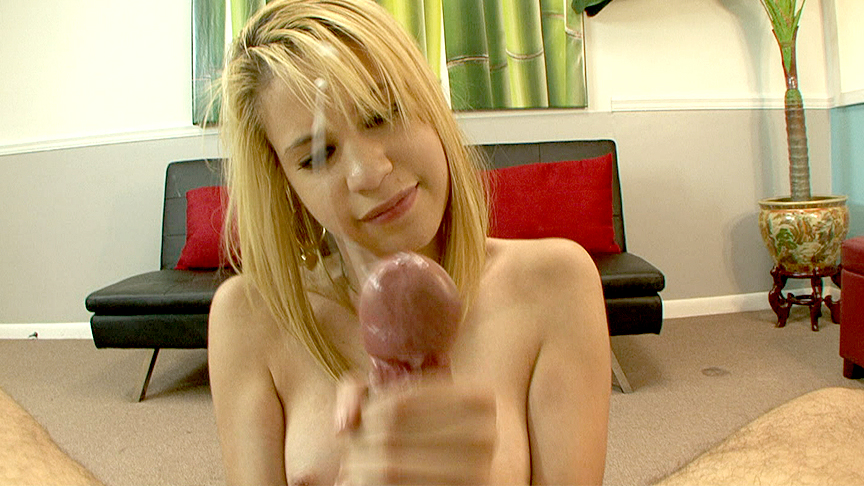 Since Mae Olsen turned 18 years old, she's been given more freedom. She can finally see her boyfriend whenever she wants. The only thing is, she has to find her own way to see him. She doesn't own a car yet. Since her parents can't take her, that leaves her stepbrother. But he doesn't want to. Why should he help her? Mae begs, but it isn't doing any good. Plan B. She rubs on his lap, feeling for hard cock. She pulls her stepbrother's dick out and jerks it until he shuts up about the situation. He'll give her a ride if she shows him what's under her clothes. She slowly undresses, letting her bouncy tits fall out of her bra, jiggly her ass for him. She lubes his cock and jerks it with both hands, giving her stepbrother an amazing hand job. The load she gets out of him is enough for a ride. Hey, whatever works.
Kira is really upset she missed her stepbrother's big birthday party, especially since he threw her a big birthday party for her 18th birthday a few weeks before. But she's going to make up for it. She has a present in mind she knows he'll like. Her present involves his hard dick, her hands and mouth. He's not too sure about that. They're stepsiblings. When she slowly undresses and shows off her perky little boobs and bubble bottom, he can't hide his erection. She grabs it with both hands, let's some spit run down his cock, and jerks it until he shuts up. It's a real belated birthday gift when she wraps her lips around his dick, sliding it all the way down her throat, taking as much needed time to make him blow his load. She should do this for all occasions.
Elizabeth Bentley
June 27, 2014
There are countless anti-smoking propaganda nowadays, all to make smokers feel guilty about lighting up, especially if you're 18. This is the case for our 18 year old Elizabeth Bentley. Thinking she was alone and fresh out of the shower, she lights up a cigarette. Guess who's home? Her annoying stepbrother. He's definitely going to snitch. She tries to persuade him not to, but he can never pass an opportunity to see her get in trouble. What to do? She sits him down and starts rubbing on his crotch. A good hand job should do the trick. He can't believe his stepsister wants to jerk his cock. Once she drops a load of spit to make the stroking smoother, he promises he won't tell. She jerks his hard prick with both hands, driving him crazy. She likes to tease his sensitive head. After blowing his load, she lights her cigarette back up.
What would you do if you walked in on your stepsister using a fucking machine? You read right, a fucking machine. Seqora just turned 18, which means she can finally buy all the sexy things she's been wanting, including her new fucking machine. She didn't expect her stepbrother to be home, watching a bit behind her cracked open door. He walks in and startles her. He has to tell their parents about her recent purchase. That's the last thing she wants. There has to be something she can do to keep him quiet. A blow job, maybe a few good strokes of his cock. He's hesitant at first, but he can't deny he's been wanting something like this to happen, especially when she wraps her lips around his dick. He has to squeeze her perky boobs and a stick a finger or two up her tight pussy. She even let's him rub his cock against her cunt lips. But he can't fuck her. She still has to test out her fuck machine.
Ashden, our crazy sexy cool 18 year old, is still up to her mischievous ways. Her new venture is camming for any horny guy who'll watch and tip big bucks. She loves spanking herself. She loves the way her red ass feels after a good 'Bitch' paddling. She knows how to please her viewers. Who wouldn't want to watch a hot 18 year old play with her wet pussy? The only viewer she did not expect was her stepbrother. She should have locked her door. Catching his stepsister naked on camera is definitely juicy enough to use against her. But she knows how to shut him up. She pushes him down and pulls out his cock, which is hard already. Go figure. She drops a glob of lube and jerks his cock. Ashden's viewers are tipping her left and right, wishing they were in the room. They tell her how to tug on his cock, what to do with herself, and give plenty of dirty talk, which Ashden enjoys. Not only are her viewers filling up her bank account, but they're helping her make her stepbrother blow his load. They definitely want her to be able to log on again. Will you help shut her stepbrother up?
Ever since Ashden turned 18, she's been getting home pretty late. Her stepbrother suspects she's been spending her time out of the house with her boyfriend. This would be some good information for Ashden's mom. Every stepbrother loves watching their sibling get in trouble. Ashden has to do something to stop her stepbrother from telling. She lifts up her shirt and let's him get a good view of her big perky boobs. She even let's him touch them. But he's still going to tell. Her mom needs to know. So Ashden pulls his cock out and jerks it with a firm grip. If he wants her to make him cum, he can't tell. She's jerking his hard dick so good, he wants her to finish. If she can make him explode he won't tell. She has a few tricks up her sleeve. She flaunts her tight round ass in his face, spanking it with hard slaps. She can tell he likes the way she rubs her pussy. She continues tugging on his cock, admitting she's been wanting to do this for quite some time. But can she make him bust a nut? You have watch and see.
Adrinna Lily
May 30, 2014
If you're a fan of our clips, you must know about the sexy delicious girls we have camming. Our newest face, who just turned 18 years old, Adrianna Lily is on camera causing many erections. Barely legal ass usually does the trick. But Adrianna didn't think her stepfather would walk in on her as she was working. Her stepfather is quite disappointed, threatening to tell her mom. Of course, Adrianna doesn't want her mom to know. So, she pulls her stepdad in front of the camera and let's him do whatever he wants. He bends her over his knee and gives her a hard bare handed spanking, which is more erotic than an angry punishment. Luckily for Adrianna, her viewers tip a lot of money for the show. Pulling her stepdad's cock out gets even more tips. Each stroke of his cock seems to attract more and more camming members, all ready to pay for the show. What more can they ask for? Everyone loves young pussy, bouncy big boobs, and the opportunity to see a hot girl give a cum exploding hand job. Too bad you couldn't be in the room. More dick jerking could've meant more money for Adrianna.
Harmony Coxxx
May 23, 2014
Harmony Coxxx is finally 18. And it couldn't have happened at a better time. She has a costume party to attend and needs help deciding which sexy outfit to wear. She could go as a hot female football player. Or she can goe as a naughty cheerleader. Maybe the scandalous cop. Whatever she wears, it has to be able to turn on any guy. She asks her stepbrother for his opinion. He doesn't feel comfortable seeing his stepsister in such revealing clothing. But she can see his bulge and she's been wanting to play with it. She climbs on top of him, pulls out his rock hard cock, and jerks it. He wants her to stop because they're stepsiblings. But it does feel good. And she is doing a really good job tugging on his prick. She flaunts her perky breast and bubble ass, making his dick throb even more. She confesses she's been wanting to jerk his cock ever since he moved in. He wanted the same thing. This 18 year old vixen is finally getting what she wants.
Elena Petrova
May 16, 2014
Elena Petrova's dream is to become a member of the local lingerie football team. She wasn't able to since the team only accepts 18 year olds. Well, her 18th birthday pasted and she made the team. Dressed in her new uniform, she proudly shares the news to her stepbrother. Her barely there lingerie uniform makes him a bit uncomfortable, since they're step siblings. But he is the one she wanted to show first. She shows off her young body in her uniform, raising her top a bit, lowering her bottoms a bit more. She wants to know how hot she is to her stepbrother. But he is a bit nervous and doesn't want to answer. She cradles his lap and rubs on his crotch. She can tell how hot she is by how hard he is. She pulls out his dick and gets it nice and wet with her mouth, giving him a deep throat blow job, chasing away all his nervousness. He's surprised how talented she is for an 18 year old, making him bust his load all over her face. Hopefully she's as talented on the field as she is on her knees.
Latest Taboo18.com Updates