Latest Taboo18.com Updates
Katerina Kay
July 10, 2015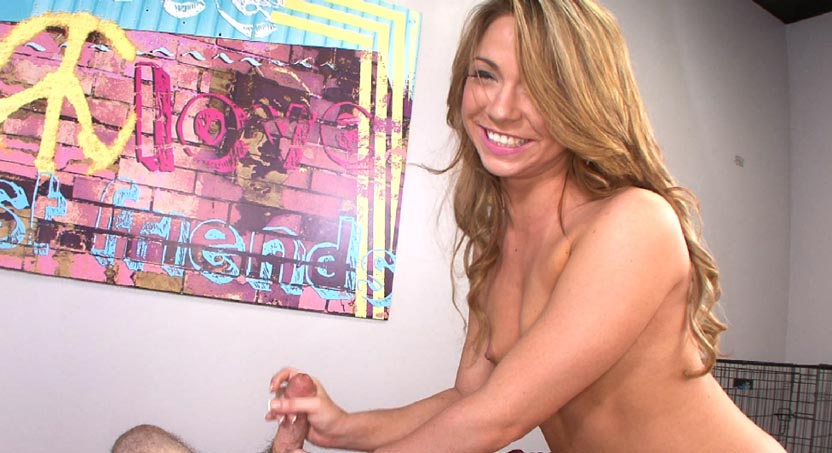 Katerina Kay, the cutest 18 year old around, is bored at home with her stepbrother. Their parents are out for the night, leaving them to find something to do on their own. Katerina's stepbrother is big on playing games and pranks. This time Katerina has a game she wants to play: I'll show you mine if you show me yours. Her stepbrother's games are never sexual or taboo. Katerina is one horny teenager. She starts the game off by pulling off her shirt, exposing her cup-able breast and perky nipples. She then slides off her shorts and panties, showing off her bubble butt and perfect snatch. If thought they're stepbrother and stepsister, he gladly pulls of his pants. Katerina can't resist touching and waking it up. She might as well continue and give him a handjob. She always wanted to see how much cum he squirts out. It's her fetish. He let's his stepsister grease up his cock and jerk it. Every stroke keeps him flat on his back. Katerina likes the throbbing shaft in her hand, using more lube to keep her handjob slick. He of course sucks on her nipples and fingers her clit and pussy hole. It makes her stroke faster and harder. She wants his cum so bad. You have to watch the ending of this sticky taboo clip!
Jasmine Caro
July 3, 2015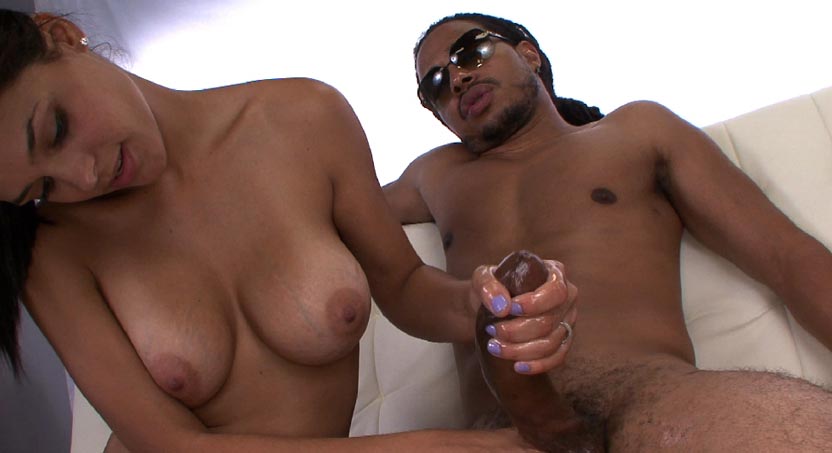 Jasmine Caro's stepbrother is the biggest pervert in town. He likes to peep in his 19 year old stepsister's bedroom when she gets out of the shower. He's seen her dry herself plenty of times, jerking off when she lotions her smooth skin. He's always wondered what she would do if she caught him. Well, we're all about to find out. She spots him in his usual spot as she throws on her bra and demands he comes out. He doesn't know what to do. He hopes she doesn't tell on him. Since she's already naked and feeling extremely horny, she decides to have some fun with her peeping stepbrother. She reaches for his cock and feels a throbbing horse cock pressed against his pants. She's glad she didn't turn him away. She pulls out his cock. At first, he doesn't want her to. They're stepbrother and stepsister after all, but if he doesn't, she'll definitely tell on him. If he's going to be spying on her, she gets to do whatever she wants with his boner. Right now, she wants to give him a handjob until he cums all over her huge natural teen breasts. He better deliver the hefty load she wants. Or she might tell on him anyway. You definitely have to watch the ending of this sticky Taboo clip.
Daisy Summers
June 26, 2015
Daisy Summers, the hot 18 year old girl next door, is pretty caring when it comes to her parents. Even her stepbrother. She walks in on him pouting. She finds out that his girlfriend broke up with him for another guy. Daisy expected she would. She is quite the whore at school. Daisy hates seeing her stepbrother down in the dumps. The best way to cheer her up is to play with her sweet little pussy. She's pretty sure the same tactic will work on her stepbrother. She starts rubbing on his crotch, surprising him. You can tell he likes it but is cautious about their relationship. She is his stepsister. It's so taboo! But she doesn't see a problem with that. They're not related. If anything, their parents should be happy they're getting along. Her stepbrother gives in and he lets her pull down his pants. She's happy to see what a big cock he has in his boxers. She stands up and slowly peels off her clothes, revealing bouncy tits, smooth curvy hips and one unbelievably sexy bubble butt. The second she sits next to him and strokes his dick, his hands are all over her. Who could resist? She has to use both hands to jerk him off. Whatever it takes to give him a cheerful handjob, she'll do it. She loves the feel of his thick dick between her hands, working every inch of it. Seems like he's forgotten all about his ex. He's lucky to have such a horny teen stepsister who wants nothing more than to make him cum all over her face. You definitely want to see this hot facial!
Nadia Capri
June 19, 2015
Every 18 year old girl has a diary filled with some steamy stuff, especially if they're as hot and sexy as Nadia Capri. She's diligent about updating her trusty notebook with secrets, fantasies and the usual teen dilemmas. Of course the worst part of having a diary is the possibility of someone reading. It's worse if that particular person is in the diary. In Nadia's situation, her stepfather comes across her journal and reads it. Since he cares about her so much, he thought it would be a good idea to make sure she's staying out of trouble. Things seem alright until he comes to a few entries involving him. Nadia daydreams about pulling down his pants, letting his cock dangle in front of her face and finally feel it between in her hands. She wants to see him cum and be the girl that makes him do it. Who knew young girls had such taboo thoughts. Things get interesting when Nadia walks in on her stepdad reading her diary. He's busted but sits her down to talk about what he read. She confesses how hot she thinks he is. Her mom has great taste. And she confesses she does what to give him a hand job. She wants to stroke out every last drop of jizz. Somehow this naught teenager convinces her stepfather to drop his trousers and let her fulfill her kinky fantasy. Maybe it's the sexy negligee she's wearing. He's always wanted to feel her bouncy tits. Like mom, like daughter. Nadia gets his cock wet and jerks him off with tight grip, feeling every groove of his manhood. As long as they don't tell mom, her stepfather sits back and enjoys his stepdaughter working his meat. Nadia gets what she wants.
Alby Rydes, Angelina Castro
June 12, 2015
The second Ms. Angelina Castro leaves her classroom, her students will get out of their seats and wreak some havoc. Alby Rydes seems to always be the leader. It must be her bouncy high breast that persuades her followers to do what she wants. This time, she takes the opportunity to go through Ms. Castro's. There is a test coming up she prefers not to study for. They all draw on the chalkboard, writing naughty and dirty words. What else is there these rebellious students to do? Alby looks over at the new guy in the classroom and wants to play with his dick. She wants to do in Ms. Castro's very own desk chair. She pulls the guy over and sits him down, slowly peeling off the pieces of her school uniform. Watching her cup her breast gets this guy rock hard, definitely ready for a professional hand job. Alby lubes him up and strokes his dick with both hands, twisting her hands around his shaft, keeping him sat tight in the chair. Alby's friend watches, eventually playing with Alby's tits and sweet tasty pussy. What would make this scene even hotter? We know. Ms. Castro walks in and catches them. She can't believe her eyes, but isn't mad. The situation excites her, taking over the guys dick. She wants his cum. Alby gladly plays with her friend as Angelina milks his cock. What an awesome school!
Jessica Robbin
June 5, 2015
Jessica Robbin, the hottest girl in school, is kept after school concerning her disappointing grades. Her teacher tells her she won't be passing, which Jessica isn't going to accept so easily. Like every other course she's almost failed, she uses her hot body to get the extra points she needs for an A+. This case is no different. She stands and slowly walks over to his desk, slowly pulling of her top. She shows him her bouncy tits and let's her short shorts fall to the floor, letting him get a good glimpse of her sexy lingerie. But that' s not enough for her to pass. She's going to have to take this a step further. If he passes her, she'll do a lot more. He agrees and she gets to work. She pulls out his hard prick and shows him how far she can get it down her throat. She puts her pussy near his face, giving him plenty of opportunity to finger and eat it. She gladly sits on his face so he can taste her tight asshole. By the time she's done with him, she'll be the top student in his class. Hard work does pay off.
Tara Lynn Holmes
May 29, 2015
Tara Lynn Holmes, the young pixie bombshell, is kept after school concerning her disappointing grades. Her teacher tells her she won't be passing, which Tara isn't going to accept so easily. She has to pass the class or she won't graduate. Like every other course she's almost failed, she uses her hot body to get the extra points she needs for an A+. This case is no different. She stands and slowly walks over to his desk, slowly untying her top. She shows him her perfect perky boobs and let's her short skirt fall to the floor, letting him get a good glimpse of her sexy lingerie. If he passes her, she'll do a lot more. He agrees and she gets to work. She pulls out his throbbing cock and shows him how far she can get it down her throat. By the time she's done with him, she'll be the top student in his class. Hard work does pay off.
Roxanne Rae, Jessica Robbin
May 22, 2015
Roxanne Rae and Jessica Robbin are impatiently waiting for their study hall to end. Both are extremely horny, thinking which dick they'll go after next. Problem is, they've been through most of the cocks in school. There's no one left to fool around with and they don't want to do repeats. Fortunately for them there's a new student sitting in the same study hall. He's a good looking black guy, listening to everything they're saying. Both girls haven't messed with a black man and they can't help but wonder if he's hung. The only issue they is they have to share him. Of course he's easily seduced by these two hotties, teasing him with their bouncy tits, round asses and talented hands and mouth. They make him lie down on the teacher's desk and take turns playing with his cock. They're quite impressed with what he's packing, testing their deep throat skills. Jessica is so turned on she sits down and rubs her tasty clit. Roxanne wants his load so she continues stroking and sucking his meat, determined to catch every drop on her face. You know what they say: Once you go black?
Angelina Castro, Tara Lynn Holmes
May 15, 2015
Ms. Angelina Castro is tired of having to discipline her students. There are a handful that behave and do what is expected of them. The rest are troublemakers and need a sound spanking. For instance, her students in her Sex Ed class fall into this category. Tara Lynn Holmes keeps coming to school in tall high heels which is against school policy. Tony keeps touching his dick during class. Both students do not agree what they're doing is wrong. Since Tara insists on wearing tall heels and Tony keeps touching his dick, why not put them together. She makes Tara give him a foot job. Watching the two go at it gets Ms. Castro horny. She slips off her clothes and joins in on the fun. She rams his dick down her throat as Tara shoves her feet down his throat. He cums suddenly all over Ms. Castro's face, allowing Tara to suck up every drop of it. Just because he came doesn't mean the fun has to stop. There's plenty of time left of the class and these three want to fool around till the bell. Of course, they can't tell anyone what's happening. If they do, they can't do it again.
Tara Lynn Holmes
May 8, 2015
When Tara and her stepbrother are left alone, they end up getting in some fun trouble. They're both in Ms. Castro's 4th period class. One of their classmates seems to be uncontrollably horny. The guy can't keep his hand out of his pants. Unacceptable! Ms. Castro takes him right to the principle's office. Tara and her stepbrother take the opportunity to go through Ms. Castro's desk for the answers to her upcoming mid-term exam. Yet, instead, Tara's stepbrother can't keep his eyes off of Tara's ass peaking out of her short skirt. He can't resist touching it. She gives him a striptease, slowly peeling off her tied top, thigh high stockings and tall high heels that definitely break school code. She sits him down in Ms. Castro's chair and gropes his already throbbing meat packed in his pants. She pulls it out and squeezes it in her hand. It goes right down her throat all the way to his balls. She loves throating her stepbrother's cock, especially in public places like school. These stepsiblings are quite the pair for dirty fun. Watch as Tara gets soaked in her stepbrother's cum.
Latest Taboo18.com Updates