Latest Taboo18.com Updates
Roxanne Rae, Angelina Castro
May 1, 2015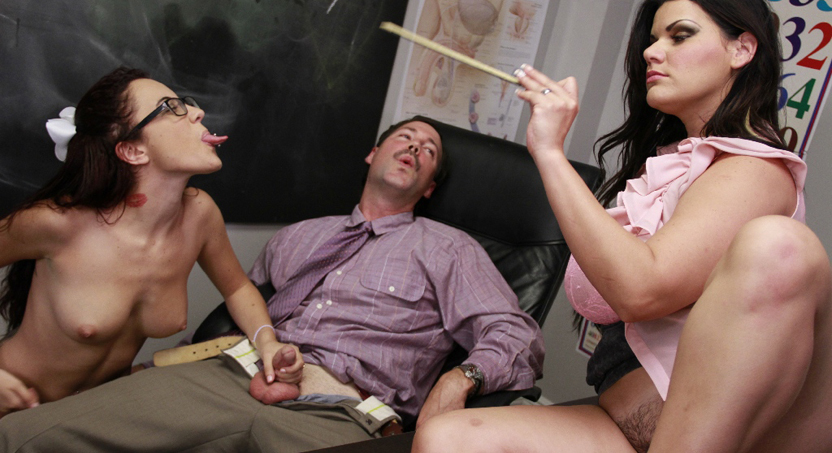 When isn't Roxanne Rae in trouble? Every teacher has had a run in with the devious schoolgirl. This time, she has two officials on her ass. You see, she snuck into Mr. Thomas' classroom and went through his desk, hoping to find the answers to his upcoming exam. Unfortunately for Roxanne, she gets busted by Mr. Thomas. He could discipline her himself. But he rather get Ms. Angelina Castro, our favorite naughty teacher, to take care of Roxanne's punishment. Roxanne knows Ms. Castro quite well. Now it's 2 vs 1. Now, we don't know what is going on between Ms. Castro and Mr. Thomas, but there's definitely something. Ms. Castro gives Roxanne a few options of repentance. She can: a) write "I won't cheat on a test" 1,000 times, b) clean the entire school on the weekend, or c) (our favorite choice) give Mr. Thomas a hand job. Roxanne thinks about it, but Ms. Castro makes up her mind for her. Hand job it is. Roxanne resists, but no one can win a battle against Ms. Castro. Roxanne ends up naked, on her knees with Mr. Thomas' dick in her hand. Ms. Castro tells her exactly how to stroke it, dominating both Roxanne and Mr. Thomas. Of course, the perverted Mr. Thomas loves every minute of it. We love Ms. Castro. She can boss us around any time.
Angelina Castro, Roxanne Rae
April 24, 2015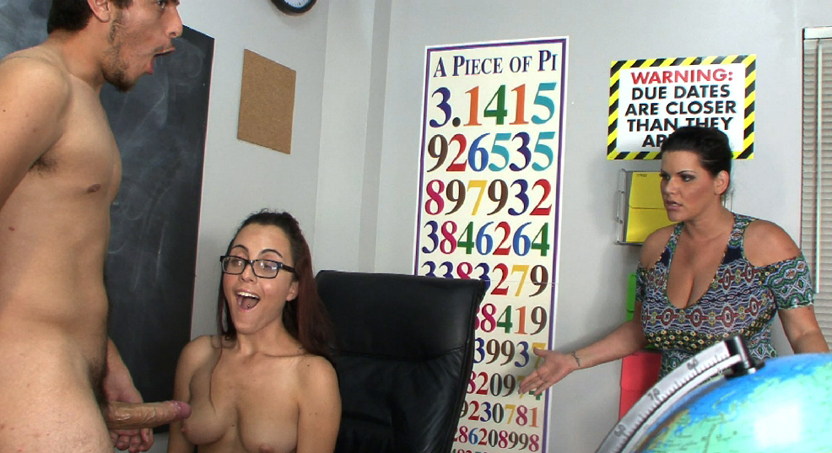 Roxanne Rae and her boyfriend are in detention yet again with Ms. Angelina Castro. They got caught fooling around in the mens bathroom for the third time. Ms. Castro can lecture them all she wants, but she knows she's wasting her breath. Maybe in-class work will do the trick. She leaves them alone to get their assignments. The two naughty students take the opportunity to check out what's in Ms. Castro's desk drawers. Pay attention. What they find will definitely get your dick up. Roxanne pulls out a little black bag. Inside rests a ribbed glass dildo. The two are shocked and keep searching. Roxanne pulls another article out that really makes her curious: a vibrator. She wants to test it out. So she sits in Ms. Castro's chair, lifts up her skirt (she isn't wearing any panties) and let's the vibrator do it's magic on her clit. Of course her boyfriend isn't going to just stand there. He pulls out his cock and strokes it as Roxanne plays with herself. As they are about to get busy, Ms. Castro walks in. Yet, instead of being disappointed or eager to punish them further, she joins the couple. Roxanne's boyfriend has a big enough dick for two. Maybe Roxanne won't end up in detention again. Well, if she doesn't snitch on Ms. Castro, of course.
Stephanie Moretti
April 17, 2015
Stephanie Moretti and her stepbrother are quite close. They go everywhere together, especially house parties and night clubs. Everyone thinks they're a couple. Wondering why? Check this clip out. Stephanie, her stepbrother and two friends are at a house party having a good time. There's music, lights, refreshments and very sexy guests. The four found a spot to sit and relax. Seems like Stephanie is very relaxed. She starts rubbing on her stepbrother's crotch without any worry of people looking. Her friends are a bit confused, since they are stepsiblings. Yet, it seems their interaction is turning them on. Stephanie not only gets her stepbrother naked, but her two friends naked as well. Stephanie has her stepbrother's dick in his hand as her friends suck on her nipples and play with her pussy. Whoever brought the vibrator must have been expecting something like this. Everyone will be talking about this foursome.
Carter Cruise
April 10, 2015
Carter Cruise is getting tired of her boyfriend. He's always late for their dates. He treats her like a "bro" and he has a small dick. She wants a real man that can satisfy every need. That's why she hasn't gotten rid of him. You see, his dad is everything she's looking for in a guy. He's attractive, chivalrous and looks like he can fuck her for hours. One day, Carter stops by to see her boyfriend, who is running late yet again. It doesn't matter. His dad is home, the real reason why Carter agreed to come over. She sits down with and tells him how his son treats her and that she really wants a guy like him. She tries to rub his crotch, but he pushes her hand away. She goes for it again and again until he finally submits to her. Who could ever resist this hot babe? She has an incredible rack with the sexiest nipple piercings, a flat stomach and a round ass perfect for spanking. She pulls out his cock and is extremely happy to find a huge cock. It's definitely bigger than her boyfriends pathetic piece of meat. She's going to thoroughly enjoy every inch with a tight grip and several ways of stroking a throbbing dick.
JC Simpson's least favorite day of the week is football Sunday. Her stepbrother spends the entire day watching games, leaving no time to spend with his stepsister. JC knows exactly what to do to get her stepbrother's attention. She hops on his lap and covers his view with her perky tits. He tries to push her off, but JC holds tight, placing his hands on her bubbly ass. She grabs for his cock, which definitely causes his attention to wander away from the TV. She takes off her shirt and completely blocks his view by bury his face between her jugs. JC can feel how hard he's getting and pulls off his pants. She's impressed with what he's packing, wrapping her fingers around his manhood. She strokes it with both hands, making him sit back and relax. She's glad she can manipulate her stepbrother so easily.
Stacie Andrews
March 27, 2015
Stacie Andrews, a hot pixie blonde, definitely knows how to have a good time. She has her stepbrother and couple of friends over for snacks and a few hands of poker. But she's getting a bit bored. So she comes up with a great idea to take the party to the next level. How about a game of strip poker? The only one that has a problem with it is her stepbrother. What if he or she loses? His stepdad would throw a fit if he caught them stripped down to their birthday suits. But the girls win out and they start the first hand with the new rules. Both Stacie and her stepbrother lose. That means they have to take something off. Second hand, they lose again. Their both down to their underwear. Stacie's stepbrother decides to raise the stakes. Whoever loses has to give him a hand job. The girls look at each other are totally in. The cards are dealt and guess who ends up losing: Stacie! She gladly pulls down her stepbrother's underwear and grips his cock. From the way she strokes it, we're thinking she lost on purpose. As she jerks him off, her friends play with each other. This friendly card game turns sex party. So you better hurry up. Oh, and bring some party favors!
The day has finally come for Lia Ezra to meet her new stepdad. Of course, she isn't too happy about it. She would rather have her parents make up and get back together. Her new stepfather is waiting in living room for her. She takes a deep breath and goes to meet him. She surely wasn't expecting her new stepdad to be so hot. She can't get over what kind of guy her mom landed. Thankfully her mom isn't there to see what's about to happen. Lia wastes no time in expressing how badly she wants her new stepfather. She reaches for his crotch, yet is pushed away. There's no way he's going to mess around with his stepdaughter. But Lia is persistent. She touches him all over until he finally submits to her. She pulls out his cock, impressed yet again with what her mom was able to bring home for marriage. He's impressed himself by Lia's hot young body, taking everything off of her and rubbing his fingers against her clit as she jerks his dick. We see great things for this trio.
Sarah Luxor
March 13, 2015
Sarah Luxor is a regular in after school detention. This time around a few friends are accompanying her. There's also another student in detention: Sarah's stepbrother. The teacher seems to be late which gives Sarah a great idea. Why not use the time to jerk her stepbrother off on the teacher's desk. No wonder she's in detention all the time. There's nothing she won't try at least one, preferably in a public setting. Her stepbrother must feel the same since he hops on the table and pulls down his pants. Sarah slowly pulls off her uniform and grips his dick with both hands. We're thinking they do this all the time. Guess what. Sarah's friends stay close by to watch the entire thing. They even give Sarah a few pointers and joke about if the teacher were to walk in. Sarah's stepbrother hopes he gets to blow his load before the teacher does show up.
Alby Rydes and her best friend are chatting about Alby's crush on her friend's stepbrother. Guess what. He's in the same class, sitting right behind them. He actually heard everything. Alby approaches him and tells him how badly she wants to play with his dick. She slips off her clothes with the help of his stepsister, showing him her huge tits and curvy round ass. He gets excited instantly. She finally gets what she always wanted: his hard boner gripped in her hand. She finds his dick so sexy, using both hands to stroke it. Her friend stays close to watch the entire thing. She can't resist pulling on Alby's incredible nipples and fingering her tight pussy as Alby strokes her stepbrother. Watching the two girls have horny fun in front of him definitely keeps this lucky guy hard and ready to blast all over Alby's boobs. Thankfully the teacher hasn't returned to stop the fun.
Nikki Lavay
February 20, 2015
Mrs. Nikki Lavay has made failing students into academic scholars. The only student she can't get to improve his her own stepson. She keeps him after school, works with him at home, even changes a few grades. Still, he's at the bottom of the class. If he doesn't up his grade, he'll be moved to special ed. She doesn't want to see him leave his class. So she's come up with the ultimate extra credit that might get her beloved stepson back on track. She sits him down at her desk and slowly begins to undress. A set of bouncy boobs and a round ass will get any young guy's attention. She pulls out his stiff dick and strokes it as she explains how much she enjoys having him in her class, wanting only the best for him. This is his last chance or he will be moved. He surely doesn't want to get switched now. His hot stepmom promises she'll jerk him off every time he gets an A+. Fooling around at school will be much easier than at home. All Mrs. Lavay needs to do is lock her classroom door. If this guy doesn't except his stepmom's proposal, we're pretty sure there are countless others who will gladly agree.
Latest Taboo18.com Updates