Latest Taboo18.com Updates
Skyler Greene
February 13, 2015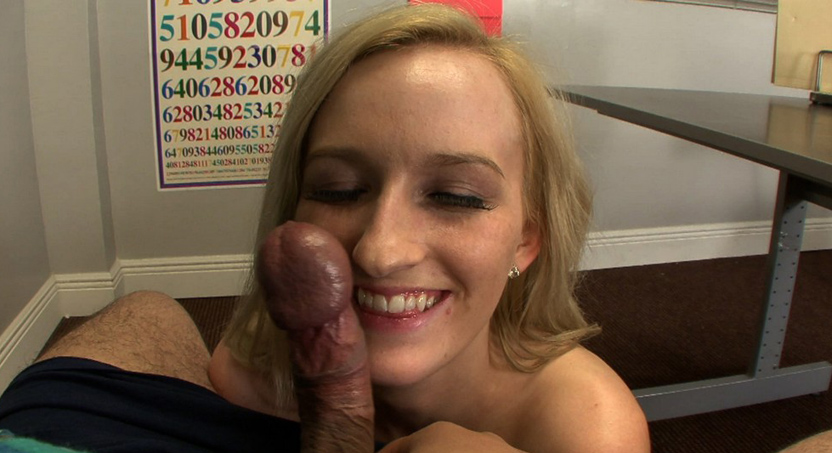 The cute and sexy young blond Skyler Greene loves fooling around with boys in school, especially her stepbrother. They've done so much already. But he needs some jerk off instruction. She knows he would have better orgasms when beating off if he applies her tips and suggestions. What better place to teach him than at their school. They found an empty classroom and comfortable chair by the teacher's desk. She grips his throbbing boner and shows him how to stroke it from head to balls. She loves teasing a guy's head with his own pre-cum. And of course, you can't forget the nuts. She cups them and squeezes them a bit, making him flinch. She loves making guys flinch. Their dicks get so hard. She lets him grab her ass and finger her wet pussy. She wants some cum and she's going to get it. See how well she taught her stepbrother to stroke his dick. You can learn a thing or two.
Roxanne Rae
February 6, 2015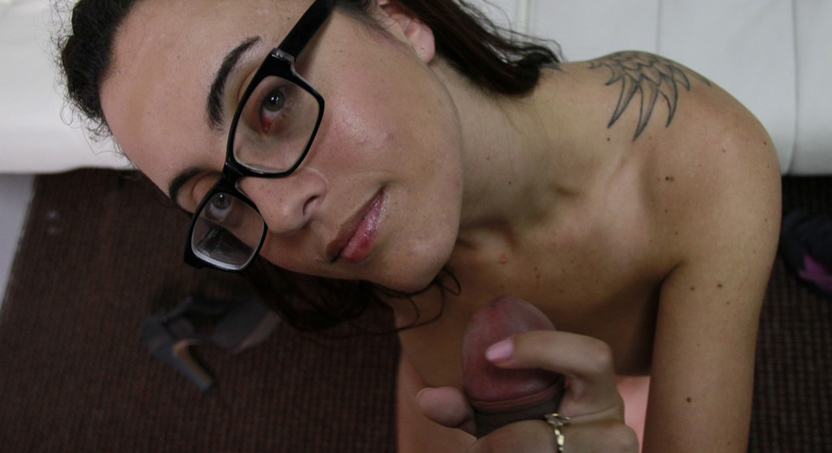 Roxanne Rae, the hottest 19 year old on the block, returns home from shopping, excited to wear everything. She puts on her favorite top she bought and checks herself out. For some reason, it doesn't fit as well as she likes. She's thinking the shirt needs bigger boobs to fill it out. Her boyfriend says her tits are perfect, but he's supposed to say that. She needs the opinion of a neutral party. She finds her stepbrother doing nothing on the couch, like always. She asks him whether she should get her jugs done. She's thinking double D's. She even pulls them out for him to see. He insists that they look fine, weirded out that his stepsister is topless in front of him. Since he's being honest, she lowers her skirt to show him her ass, asking if she should get her sweet cheeks enlarged. To give a well-judged answer, he wants her to cup her ass with her pantyhose and make it jiggle. Again, he likes what he sees. One last question. Roxanne has grown a cute little bush right above her tasty clit. Should she let it grow more, or go bare? Her stepbrother needs to see her play with it first. She's shown him all she could, it's his turn to show her something. He pulls out his dick, which is already throbbing hard. She wants to taste it. Thankfully their parents aren't home. Or they would see how close they are.
Jessica Robbin
January 30, 2015
One of our greatest fans wanted to see something in particular for our next taboo clip. Jessica Robbin loved it and decided to take on the part. Jessica is stuck in detention with her stepbrother and his friend. This trio can usually be found in detention. They definitely wreak a lot of havoc around school. The boredom is becoming unbearable. Since the teacher has disappeared somewhere, Jessica decides to give the guys a show. What kind of show, you ask. It doesn't involve her clothes. She gives the fellas a strip tease, pulling off a piece of her school uniform one by one, shaking her bubbly ass in their face, squeeze her massive jugs together. Even though her stepbrother is weirded out, he can't resist watching her dance. His friend wishes he had a few dollars to throw at her. Jessica wants to see something too. She wants to see how hard her stepbrother is. She falls to her knees in front of him and pulls his cock out. He would usually pull away, but his hot stepsister has gotten him super horny. Jessica spits all over his dick and strokes it with a tight grip. She loves having guys cum all over her huge tits. She's hoping what she heard about him is true.
Chloe Jane Sinclair, Bailey Rossi
January 23, 2015
Chloe and Bailey, best friends since grade school, are chatting about Chloe's crush on Bailey's stepbrother. Guess what. He's not too far away. He actually heard everything. Chloe approaches him and tells him how badly she wants to play with his cock. By the way, they're in class. Chloe slips off her dress, showing him her perky boobs and bouncy ass. He gets excited instantly. She finally gets what she always wanted: his hard boner gripped in her hand. She finds his dick so sexy. She's thinking she'll need help to pull out a massive load. She calls over Bailey to help. He's hesitant at first, since she's his stepsister. But the thought of two cute girls on his dick is hard to pass up. Four hands are better than two. The girls take turns jerking his cock. He wants them both to stroke it at the same time. Chloe loves his big cock head, teasing it with spit and rubbing it, driving him crazy. These best friends talk so dirty, both pleading for his load. His stepsister has always wondered herself how much he can unload. They get him closer and closer. Don't miss if he can deliver.
Mia hurley
January 16, 2015
We have another horny 18 year old prowling for a dick to play with. Cute and petite Mia Hurley decides to mess around with her stepbrother. Thing is he's taking a nap. That surely doesn't stop Mia. She softly climbs on his bed and rubs on his crotch. It rises right up, but he's still unaware of what's going on. She gets a bit comfortable by slipping of her clothes, playing with her sweet pussy as she plays with her stepbrothers boner. When she deep throats it, he wakes up, quite surprised at what his stepsister is up to. He would usually tell her to stop, but it feels good. Who doesn't enjoy a blow job after a long nap? It is better that he's awake. He can finger her so she can concentrate on pulling out a big wad of cum. She does not stop, driving her stepbrother crazy, keeping him on the edge of exploding. She wants his load all over her suckable tits, wrapping them both around his cock, teasing his prick head with her perky nipples. You have to watch to see if she gets what she wants.
Alice Manson
January 9, 2015
Every hot 18 year old feels like they can be a bit sexier. With today's advancements in cosmetic surgery, it's definitely possible to do so. The flirty Alice Manson is thinking of her getting her butt done. She's needs an opinion from a guy who knows a thing or two about round asses: her stepbrother. She pulls down her shorts and asks him whether or not she should get a bigger ass. He's shocked at his stepsister, yet can't look away from her cute little bottom. She can tell he's shy. To get an honest answer, she grabs his hand and places it on her ass cheek. That's the real way to tell if one should get their butt pumped: Can a guy get a handful? Her stepbrother has no problem grabbing her ass. Alice was always wondering if she should get breast implants, peeling off her shirt and allowing her stepbrother to touch her bouncy tits. She notices his dick is hard as a rock underneath his pants. She's taking as a no to surgery and yes to a wet blow job. She reaches inside his underwear and pulls out his cock, shoving it deep down her throat. Her stepbrother would stop her, but it feels too good. She may be 18, yet she knows how to suck a dick. She wants her stepbrother's cum dripping from her face. We're wondering how many guys has she asked about getting surgery. She is a dick hungry 18 year old.
Alania Fox
January 2, 2015
Horny 18 year olds are easy to find nowadays. Young girls love being perverts and begging for cum, no matter whom with. Like Alania Fox. This girl has an amazing ass. Not only is it round and bouncy, she can flex each cheek individually. The sight will wrap you up in her spell. Maybe that's how she seduced her stepbrother into letting her suck his dick. She is quite the charmer, especially when she has her luscious boobs in her hands. She wants to get herself wet before she downs his dick. Her pussy is dripping that sweet cunt juice. Her stepbrother has no problem sitting back and let her get to work. The only reason why Alania loves sucking cock is for the milky ending. She wants as much as he can give. She wants to leave soaked with his cum, most of it ending up on her forehead, lips, and chin. We're hoping her stepbrother can give his stepsister what she wants. Don't you want to see her drenched in spunk? You'll wish it was your dick in her face, begging for your load.
Vanessa Williams
December 26, 2014
We didn't have time to check Vanessa Williams out. But her tight shorts make her round cheeks irresistible, making any guy take a peak. You see, she and her stepbrother came back from the store in a panic. Her stepbrother accidentally crashed the bumper of his dad's car. He's in trouble for sure. Yet, there is a way out of the punishment: Vanessa takes the fault. His dad is sweet on her...maybe a little too sweet. But that's for another video. Vanessa does consider taking the wrap, but she of course wants something in return. Wondering what that might be? You are here at Taboo18. She wants to play with his cock. We love horny 18 year olds like her. Even though he's in complete shock that his stepsister wants his dick, he gives in. He doesn't want to get in trouble. We're pretty sure he's as horny. Can you blame him, his stepsister is hot. She slowly strips down to her birthday suit, teasing him until he's hard enough for her mouth. The real fun begins when she replaces her jerking hands with her lips, tongue, and throat. She's glad he's big enough to make her gag. We're thinking he'll be getting into some more trouble.
Amanda Tate
December 19, 2014
Amanda Tate is the best for making people feel better. Maybe it's because she's one of the hottest 18 year olds at school. Whatever the reason is, she has a way to make everything just fine. For example, her stepbrother looks really down today. His girlfriend broke up with him. Amanda had a feeling she would. She's a real slut at school. She's probably off getting ganged banged with any guy she could find?we need to find her after this taboo clip. Back to Amanda, she knows the best remedy for a broken heart: another girls mouth on your dick. It is a bit weird when the other girl is your stepsister, right? Or does it make it that much better? Amanda's stepbrother can't even think about that when her beautiful round ass is in his face. That definitely got his dick up and ready for action. Seems like he's forgotten about his ex already. Totally naked, Amanda pulls out his cock and jerks it a bit before shoving deep in her mouth. She knows how to work her slippery tongue and juicy lips. She loves squeezing balls and working a shaft with a tight fist. Amanda figures she now needs a reward for doing such a great deed. You know what our girls here at Taboo18 want: their pretty faces covered in fresh warm cum. It's the least her stepbrother can do.
Alice Manson
December 12, 2014
Alice Manson is always bothering her big stepbrother. He doesn't complain too much, since Alice Manson is the hottest girl on the block. In this taboo clip, Alice is ready to go to the beach. But she needs one thing before she goes. She read that a guy's cum is great for tanning. She'll do anything to get perfect skin. The only guy available at the moment is her stepbrother. She wouldn't be comfortable asking anyone else, so it all works out great. Her stepbrother has a bit of a problem with it. They're stepsiblings, it's weird. They could get caught and into some serious trouble. But Alice, the horny 18 year old, is quite persistent. She wants his cum dripping from her face now. So she climbs on top of him and plays around with his cock, getting it hard enough to stroke thoroughly. She loves jerking and sucking on dick, deep down her tight throat. She just might get more than enough cum for a nice day at the beach. She's aiming his cock right at her face. We're thinking it will be dripping with man ooze when they're done.
Latest Taboo18.com Updates