Latest Taboo18.com Updates
Mena Li, Zareena Baz
December 5, 2014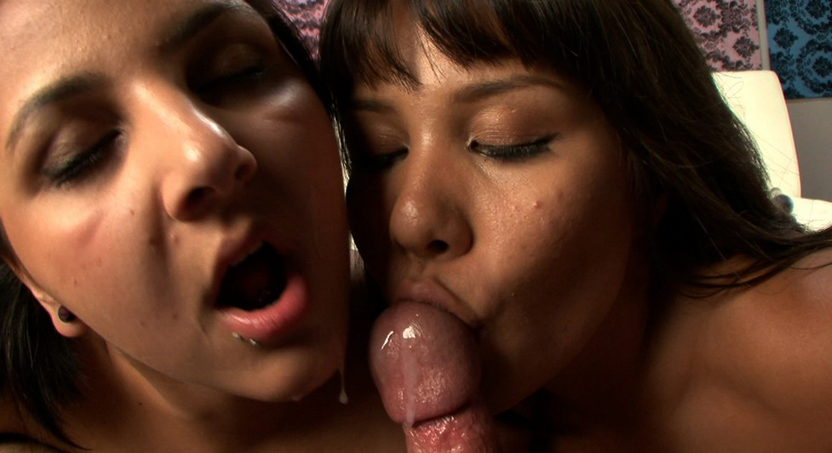 Mena Li, the brightest and hottest girl scout, needs to sell the rest of her cookies. Her best friend, also a sexy scout, needs to sell the rest of her cookies as well. They both need to or they won't be eligible for the big prize. Mena instantly thinks of her stepbrother. He has a good job and always has a lot of money on him. Together, in their skimpiest girl scout uniform, they approach him with their idea of unloading all their cookies on him. He actually hates cookies. Resorting to plan-b, they both rub on his crotch. If they can't unload their cookies on him for cash, unloading his nut sack will do the trick. They approach him, hands all over his crotch, keeping their hands there when he tries to push them away. They're going to get the cash they need no matter what it takes. Having two hot girls all over a throbbing dick will put any guy at ease. We all have this dream. Two sets of gorgeous lips kissing our hard cocks, four hands grabbing everywhere, watching the two girls play with each other. It doesn't matter if one of the girls is your stepsister. These hotties work hard for the girl scout money. They just might need your help for next year. Get your cash and dick ready.
Mena Li
November 28, 2014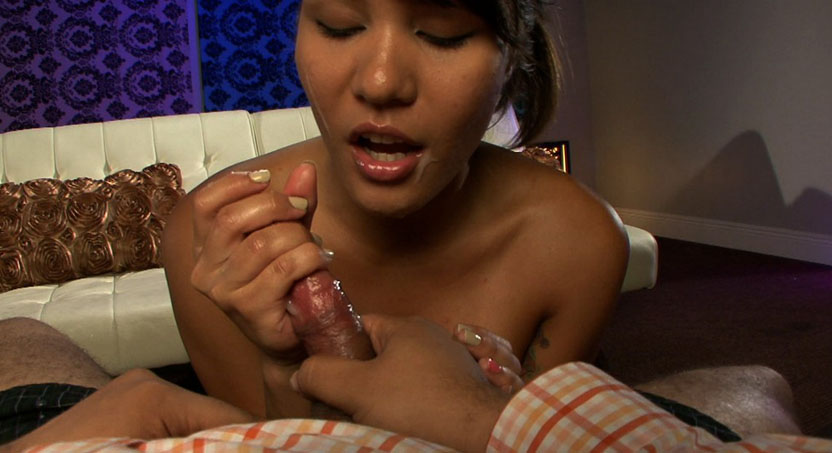 Mena Li's stepbrother is the biggest pervert in town. He likes to peep in her bedroom when she gets out of the shower. He's seen her dry herself plenty of times, jerking off when she lotions her smooth skin. He's always wondered what she would do if she caught him. Well, we're all about to find out. She spots him in his usual spot and demands he comes out. He doesn't know what to do. He hopes she doesn't tell on him. Since she's already naked and feeling extremely horny, she decides to have some fun with her peeping stepbrother. She goes down on her knees and pulls out his cock, jerking it until it' s nice and hard. At first, he doesn't want her to. They're stepbrother and stepsister after all, but if he doesn't, she'll definitely tell on him. If he's going to be spying on her, she gets to do whatever she wants with his boner. Right now, she wants to suck on his dick until he cums all over her face. He better deliver the hefty load she wants. Or she might tell on him anyway. You definitely have to watch the ending of this sticky Taboo clip.
Mena Li
November 21, 2014
Mena Li loves being a stepmom. It's better than shooting out a baby and ruining her sexy body. It also allows for some kinky fun. Let us explain. On her way back home from work she receives a picture message from her stepson. Thinking he's asking for something or snitching on his siblings, it's a picture of his erect dick. She doesn't know what to make of it. He never flirts with her or seems interested. She makes it home and finds him sitting on the couch. She wants to know why he sent her a picture of his cock. It was a big accident. The picture was for his girlfriend. He must of input the wrong info. Or did he? Either way, she likes what she sees. His dick is definitely bigger than his dad's. She wants to see it in person, possibly play with it. Of course, he's hesitant. He doesn't want his dad to find out. But if he doesn't, she'll make sure his dad gives him a proper punishment. He has no choice but to pull out his cock for his stepmom's amusement. This tall hottie knows how to treat a boner. She grips it tight with both hands and strokes it tight and slow, making him flinch all over. She wants to find out if it tastes like her husband's, wrapping her kissable lips around his shaft, shoving it down her throat. His dick is much more appetizing. She wants his cum, so she does what she must. She's hoping for a big load. Watch to find if he can deliver for his hot stepmom.
Tiffany Flowers
November 14, 2014
Poor Tiffany Flowers, one of the cutest 18 year olds in town. Her boyfriend just broke up with her. It was so sudden. The guy is such a douche bag. Now alone, Tiffany Flowers doesn't know what to do when she gets horny, like right now. Most of the guys at school are her ex's friends. They won't dare mess with her. The only guy she can fool around with is her stepbrother. She always did wonder if he had a big dick like his dad. So instead of crying to him or asking for advice, she falls to her knees and reaches for his crotch. Stunned, he tries to stop her. When she pulls out her cute little breast and bounces her bubble butt for him, he relaxes a bit. His dick definitely doesn't have a problem with it. This 18 year old is a big cum whore and works hard for it. The more of it she can get on her face, the better. Rumor is her stepbrother drops a heavy load, definitely more than her ex ever could. A facial definitely heals a broken heart.
Maci More
November 7, 2014
Guess who's bored again. If you guessed Maci More, a 18 year old hand job pro, you answered correctly. As you know she loves handling rock hard dick. Her other stepbrother just moved back into the house. The second she saw him she wanted to find out if he had a big cock. She's hoping he does. But she hasn't been able to get him alone. Her parents are home all the time. Fortunately, her parents have decided to go out and watch movie. Perfect. When Maci hears the car drive off, she makes her move. Her stepbrother is hanging out on the couch. She sits next to him, a bit too close, and wants to feel his jeans. This makes her stepbrother nervous. That's not going to stop her. She unbuttons his pants and gets a good view of what she's been wondering. It's what she thought: a nice big dick. She grabs a hold of it and strokes it. She can't believe how big it is. It's longer than her face. But can her stepbrother give her a big load of steamy cum. That's the real question. Hopefully Maci More can pull it out of him.
Maci More
October 31, 2014
Maci More, the cutest 18 year old in town, gets bored pretty easily. Since she doesn't have a car, her boredom keeps her at home. There is one thing that keeps her entertained. What to know what it is? A big, stiff, tasty cock. She can play with one all day. Unfortunately, they're difficult to come by. Lucky for her her stepbrother is home bored as well. Seems like the perfect opportunity for some fun. She approaches him as sweet and innocent as she can, getting as close as she can, running her fingers up his thigh. He's feeling pretty uncomfortable, but she notices a bulge growing in his pants. She finally confesses she wants his dick as she unbuttons his pants. It's too late to say no now. She grips his cock, impressed with what her stepbrother's packing. Her stepbrother doesn't seem uncomfortable anymore, grabbing her bouncy tits, shoving a few fingers up her wet pussy. As long as Maci has his dick in her hand, he can do whatever he wants. Of course he needs to deliver a big wad of cum. That's always the best part.
Nickey Huntsman
October 24, 2014
Ever since Nickey Huntsman turned 18, she's been more courageous and adventurous. She's definitely speaking her mind more. For instance, she waited all day for her stepbrother to come home. He knows when she does that, she wants something. But instead of money or a ride, there's something she wants he might enjoy giving. She's super horny and wants to play with his dick. That's right, she wants her stepbrother's cock. He can't believe it. It starts to set it when she slowly raises her top and shows him her beautiful perky breast, cupping them, pulling on her suckable nipples, bouncing them around. That seems to awaken something in his pants. She knows it can get harder. She stands and unbuttons her shorts, letting them drop to her ankles, revealing sexy white pantyhose and neon green panties. Her stepbrother is left speechless. She's not done yet. She teases him a bit more by taking off the rest of her clothes, letting him marvel at her sexy feet, wiggling her cute toes for him. By the looks of it, he's ready to go, not so hesitant as he was. She heard he's a squirter from his girlfriend. Let's see if he can deliver.
Scarlett Rose
October 17, 2014
Hoping to get some attention from her stepbrother, Scarlett Rose goes into his room and plays a video game. She knows he hates it when she does that, but she figures it will be the perfect opportunity to get the attention she wants. As she planned, he walks in on her, very surprised to find her in a thong and tube top. She thought he would like the sight of her bubbly ass out and about, even letting him touch it. She looks over and sees how hard he is. Good. She sits him down and rubs her glorious crack against his cock, turning him on even more. He wants his dick between her tits, fucking them as best as he can. She finally grips his dick and strokes it fast and firm. She wants him to cum all over her face. This hot 18 year old loves the feel of it dripping off of her chin.
Roxanne Rae
October 10, 2014
The lovely and sizzling hot Roxanne Rae got married! We're not sure what she sees in the guy, but we really don't care. As long as we get to see you naked and play with herself, we wish all the luck we can give. Recently, she let us in on why she really got married. Her stepson, who just turned 18, turns her on so much. She was waited until he was finally legal, pouncing on him when she got the chance. Her husband is out of town for a few weeks, the perfect time. Of course this young guy would accept his stepmom's advances. She's caught him a few times going through her panty drawer. Whenever she wears a pair of silky tight pantyhose, his eyes seem to drift down at them. She's happy to find his cock is bigger than his dad's. Someone has to please the woman of the house.
Roxxi Silver
October 3, 2014
The hot and freshly 18 year old Roxxi Silver is owning her new freedom. But it's hard to. She doesn't have a car. So she asks her stepbrother for ride. She should've known he would say no. But she knows how to convince him to do what she wants. She takes off her top and plays with her suckable nipples. She peels off her short shorts and lets him feel her shiny pantyhose. She's going to get her ride for sure, especially after gripping his hard cock in her hand. She may be only 18 but she knows a thing or two about stroking dick. Her stepbrother is frozen in his seat enjoying every jerk. Maybe if he knew his stepsister was so experienced in giving hand jobs, he would have said yes. Now he knows for the next time she needs anything from him.
Latest Taboo18.com Updates